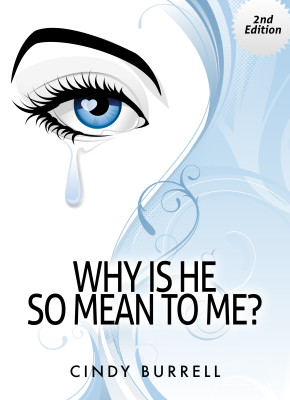 One reader wrote: "Cindy, I just finished your book. By far, it is, hands down the very best resource I have EVER read on this topic. I literally want to send it to everybody. I am going to tell my counselors about it too - both books. There is only one book that has ever spoken to my heart and life more than yours, and it's the Bible..." Click on the book cover for a book overview.
About the Book
"Why Is He So Mean to Me?" unravels the confusing and chaotic world of verbal and emotional abuse.  The book walks the reader through the debilitating characteristics of the enabler-abuser relationship, clearly revealing the abuser mindset and the abuser's most common tactics.  It also acknowledges the victim's efforts to earn her abuser's love and explains why those efforts fail.
"Why Is He So Mean to Me?" answers the question every abuse victim asks herself.  The book equips the reader to identify the abuse when it happens and then empowers her to reclaim her value and her life.
I have been where you are. You are not crazy. You are not alone. And you don't have to live this way.
One Reader's Review:  Why Is He So Mean to Me?
"I am so grateful for this book. I just read it in two days and like the other people, highlighted the majority of it.
"This book is like listening to a girlfriend who has gone through abuse and come out the other end and is in a much better place.
"It gave me hope, along with a strong wake up call that I desperately needed. I've read a lot of books on abuse to try to make sense of what has gone wrong in my last 25 years of marriage….yes, this has been a hard pill to swallow for me. This book is less about clinical definitions and more about the personal effect and psyche of the enabler…. Something I didn't see myself as. I thought because I addressed the behavior of my abusive husband consistently when I wasn't too scared that I was addressing the situation. I never took action to back up my words and as a result, my children have grown to adulthood in an abusive home. This book helped me see that I need to see my value and take that brave step of leaving…. Which I did tonight. So wow, this was that book that really helped me move forward. I highly recommend it to all women struggling through their marriages who are holding on trying to be loving and enduring untold pain. Read this book!" – Lori J. (Amazon)
For Additional Reviews, Click Here
Disclosure of Material Connection: Some of the links in the page above are "affiliate links." This means if you click on the link and purchase the item, I will receive an affiliate commission. I am disclosing this in accordance with the Federal Trade Commission's
16 CFR, Part 255
: "Guides Concerning the Use of Endorsements and Testimonials in Advertising."