If you put together a list of all the primary strategies that abusers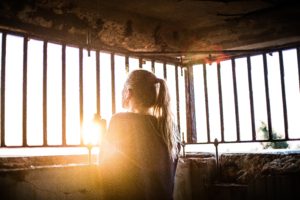 use to keep their victims living a life of emotional paralysis, 99% of them would probably apply to the man to whom I was married for 20 years.  But as I read and hear other women's stories, other more subtle patterns emerge, and among them is a practice I have struggled to identify even in my own history, a bizarre combination of passive and controlling abuse.
When we think of abuse, it is easier (in a manner of speaking) to imagine the yelling, threatening behavior, name-calling and other obvious means of instilling deep-seated fear and confusion.  But what of the calm, quiet, even silent methods an abuser uses to send a message, to remind his poor victim that she doesn't matter, that he is always in charge?  What does that look like?
It hurts to remember these events from my past, but this pattern needs to be explored.  So here I go.
I knew when we began dating that my future husband had some major health issues, but in my insecurity, even his limitations represented an opportunity for me to prove myself.  But if I was attending an event or engaged at a get-together at a friend's house, he would call the house and demand that I drop whatever I was doing to come and be with him, even if there was no crisis.  It didn't matter if what I was participating in was something enjoyable to me; any protest or reason to delay was met with an inference that I needed to be more attentive to him and I was selfish if I didn't.
Thus it began.
After evening church services, we would often go to a nearby café to socialize either alone or with others from the college group.  In the colder months, I would usually order hot chocolate and, when it was placed before me with a mound of whipped cream nestled on top, he would promptly grab a spoon, scoop off the cream  and eat it.  When I would object and tell him that I wanted it, he would laugh and say, "But I wanted it." It seems like a relatively small thing, I know, but his message to me was not only that what I wanted did not matter, but that first and foremost, what he wanted was always more important than anything I might want.
After we were married (true evidence of the depth of my denial), there was a span of a couple of years when I was I being persecuted by a superior at my job.  Some days I would come home rightly upset by my supervisor's latest effort to get me fired, and my husband would hasten me along during the few minutes I sought to share the stresses of my day.  "Uh-huh, Uh-huh," he would mutter as I spoke.  I finally asked him why he was so intent on running me over when I needed him to listen to me, and he told me, "I just need you to get over your stuff so that you can be there for me."  And that was the way it was.
Then, after giving birth to our first child, it became quickly apparent how profoundly exhausting it is to care for a newborn.  When our daughter was just a few weeks old, I was informed that I could not successfully nurse our daughter and we turned to formula, which at least meant that my husband could help me a little more with the closely timed feedings.  But he soon made it known that any additional assistance he might provide would have to happen on his schedule.  On weekends, I would explain to him that I was going to take a desperately needed nap, having been sleep-deprived for days on end.  He would allow me only an hour or two of rest, if that.  Then, from my slumber I would hear the bedroom door open, and he would come into the bedroom with our infant daughter in his arms and hold her in front of my face and say, "Somebody needs her mommy," in his sing-song voice.  He was telling me that he had been inconvenienced long enough. He had better things to do, and I needed to get up and take over.
On some weekends, after having been up much of the night, I would awaken him at a reasonable hour in the morning and petition him to take over our daughter's care for me, so I could return to bed to get some much-needed rest.  "No," he would say emphatically and pull the covers up over his shoulders and go back to sleep.  There is not one instance I can recall over the course of eight years and giving birth to four children when my husband ever helped me in that regard.  And on the rare occasion that I made plans well in advance to go out with friends or attend an event with the understanding that he would take care of our little one, he would act like he didn't remember or he would say, "Well, you'll either have to take the baby with you, or you can stay home."  Of course, I tried to reason with him, and I'm sure that, when all was said and done, he appreciated having another opportunity to shut me down.
Then there were issues with the finances.  Although early in our marriage, we were equally wise and frugal, after several years passed, I discovered that significant sums of money were being consistently withdrawn from our joint bank account.  But there were no receipts and nothing to show for the funds, and I would ask him how the money was being spent.
"On good things," he would say.  When pressed, he would protest, saying, "I don't have to give an accounting to you."  Perhaps in some circumstances that might be considered acceptable, but we were struggling financially (probably for just that reason), and it was my responsibility to pay the bills and balance the checkbook.  Many times, sitting at the kitchen table with our bills before me, I couldn't help but cry as I struggled to figure out how we were going to manage, and he would walk by and pat me on the shoulder and say, "You'll figure it out."  Of course, that meant that either our children or I would have to do without while he continued to buy whatever he wanted – and while additional funds continued to mysteriously vanish.  On several occasions I found large sums of cash stashed in an envelope in our linen closet, even while I was barely making ends meet.  When questioned about the cash, he would tell me, "That's my money."  Trying to explain to him that he had a wife and children with legitimate needs was like talking to a brick wall.  So in addition to my other responsibilities, I clipped coupons and shopped clearance and went without.  That was perfectly fine with him.
Then there were other seemingly little things.  At one point in our relationship, he stopped hanging up the bathroom towels after using them.  He would leave them in a heap on the bathroom floor, and when I would ask him to hang them up, he said he didn't feel like it.  No amount of discussion would persuade him.  Guess whose job that became?  In addition to that daily annoyance, he also decided he didn't want to help with much of anything around the house.  At one point, I asked him to help the kids with their schoolwork to relieve a portion of my load.  That didn't last long.  His impatience soon sabotaged any teaching moment, and he began to treat the kids like they were stupid.  So I went back to teaching them myself, which was the outcome he intended.  In his passive-aggressive fashion, he had absolved himself of that responsibility and placed it on my already-overburdened shoulders while simultaneously hurting and alienating his children.
And since he was home on disability for many months as a result of his illness, and I was working full-time to support the family, I needed to him to at least drop off and pick up our kids from school.  After a few months of doing that, he announced that he wasn't going to take the kids to school, as he wanted to sleep in.  Even though I had to leave for work before the kids had to be at school, he flatly refused.  So I had to seek out help from other parents for my eldest and rearrange my work schedule in order to get the younger ones to school.  And even though it was still his responsibility to pick them up from school, sometimes he just didn't show up.
Then there were family vacations, if you could call them that.  I was responsible for planning the trip, making reservations, planning our menu, and buying the food.  That wasn't so bad.  I was also responsible for getting together the lawn chairs and the beach umbrella and towels, packing up the ice chest and the food, packing for myself and all four kids along with toiletries and everything else and getting it outside to load.  My husband would pack his own suitcase and show up outside to load up the van.  Once it was packed, we would all climb in.  Suddenly, the man would say that he would be right back and hop out of the van.  And my heart would sink.  But I would try to chat with the kids and we would sit there and wait 10 or 15 minutes, and then I would go inside to see what was taking him so long.  I would find him wandering around the house, like he was looking for some excuse to be there.  I would remind him that we were all in the car waiting, and he would become irritated at me for nagging him.  It was his passive-aggressive way of telling all of us – and me in particular – that we weren't going anywhere until he was good and ready.
Once on the road, I would put in a CD that all of the kids liked so that they could sing along.  We would have a wonderful time until…midway through the CD, he would stop the music and eject the CD and tell us that he'd had enough and wanted to listen to his music.  And we would all sit in silence while he listened to something that only he enjoyed.  He just couldn't allow us to have that much fun.  He needed to make sure we knew that what he wanted was more important than us having a good time.  Then he would drive unbelievably slow in the fast lane, and if I would encourage him to pick up the speed a little or move into the slow lane out of respect for the other drivers, he would become angry and tell me that the other drivers would just have to go around him.  He knew his self-centered attitude bothered me, which I am sure gave him all the more satisfaction.
There were the summer evenings when he would agree to barbecue chicken or burgers for dinner, and I would ask him when we could expect to eat so that I could plan the rest of the meal.  Whatever time he suggested was never the time we ate.  He would dawdle and putter around doing God-knows-what.  "A few more minutes" would turn into two hours, and the kids and I would always be famished by the time the meat finally came off the grill.  He would get angry if I expressed any frustration and note how ungrateful the kids and I were in light of all of his effort.
The man also made sure we were late to everything – dinner reservations, family events, holiday celebrations, doctors' appointments, and parent-teacher meetings.  At one point, I asked him directly why he was always late, and he told me, "Because no one is ever going to tell me when I have to be anywhere."
And he meant it.  Many years into our marriage, I had a miscarriage and had to have a procedure to have our unborn child's body removed from mine.  In recovery that afternoon, I called and left a message to let him know I was ready to come home.  He didn't call, and he didn't come to pick me up.  Hours passed.  Every other patient had been picked up by their loved ones, and the outpatient clinic closed.  The nurses did paperwork and turned out most of the lights and packed up to leave while they waited for my husband to arrive.  I apologized profusely and continued to call him.  It was an hour after the clinic had closed that he finally came to get me – unaffected and unapologetic.  And that evening, as I sat physically and emotionally exhausted on the sofa, he chatted away with his mother while the children sweetly took turns snuggling with me.  The man made it clear by his body language that he had no intention of acknowledging any emotional or physical need I might have.  Conveying even a smidgeon of sympathy might have deprived him of the supremacy he had worked so hard to procure.
Yet this was the same man who could hug me and tell me that he loved me every single day, and I so wanted that to be true that it kept me holding on, believing that he would one day see me and want to protect and take care of me and our kids.  But that day never came, and looking back I can see that it was all just one big, shameless power trip.  And part of me wonders – if I had shared these incidents with the pastor at our church or a Christian counselor – would they have identified these actions as abusive?  Or would they have condescendingly patted me on the back and told me that I needed to be more understanding and sympathetic to his physical limitations and commit myself to devoted, loving prayer?  Actually, that's pretty much what did happen.  And I did strive to be more understanding and sympathetic, and I prayed my heart out and cried myself to sleep on more nights than I could count.
But now I know the truth:  a wicked man was intent on ruling and controlling every aspect of our lives.  All of it was cold and calculated, purposeful, intentional and detrimental to all of us who lived under it.  Lacking the knowledge or the will to stand up to him without doubting myself or feeling guilty or wondering what other people might think, I gave in, gave up, gave him what he wanted.  I foolishly gave myself and our kids away to the  insanity.
I'm so sorry I didn't see it for what it was, so sorry I didn't tell that heartless jackass to get out and go away forever.  Yet so many incidents didn't seem overtly abusive, but took the form of a quieter, dictatorial kind of emotional violence.
There was nothing ignorant or innocent about it.  He knew exactly what he was doing, yet none of the actions described here left any scars – at least not visible ones.  Nevertheless, the message conveyed by controlling and passive aggression is this: "You don't matter.  Your emotional, physical and social needs don't matter.  Your heart, soul and mind don't matter.  And your wounds and tears and scars – they don't matter either."
Those are lies.  You do matter – all of it matters.
So, dear reader, if you find yourself living under the dark shadow of this kind of abuse, then I pray you will remove yourself and your children from the presence of the one who feels nothing – except perhaps a sick sort of satisfaction – when he says and does those kinds of things to you.
Copyright 2016, All Rights Reserved