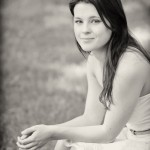 I would like to introduce you to Amberly – the youngest of my four children, a sweet-natured darling, a delight to know and have around.  At 18-years of age, she is a petite little thing, standing at five-foot-nothing, with long dark hair and soft hazel eyes. Since the day she was born, she has been an easy-going child.  Compliant and sweet-natured, I have never witnessed her being deliberately harsh with anyone, not even her siblings.
I can count on one hand the number of times I actually had to discipline her, and in those moments when I did, I thought her little heart would break just knowing she had disappointed me. On more than one occasion when she was young and I would accompany her to her friends' birthday parties and school carnivals, a mother would introduce herself and kindly inquire as to whether Amberly was my child.  Upon replying with a smile, the woman would gaze at me with a measure of awe, and might teasingly ask if I might be willing to trade my Amberly for her little trouble-maker.  I would smile proudly and offer a definitive "No way." She was such a remarkable little girl. But heartache has a way of finding us all.  Just around the time Amberly was born her father began his rapid downward spiral.  The combination of his use of high-powered prescription drugs coupled with his increasing consumption of alcohol exacerbated his already-abusive behaviors.  Even in such a stressful home environment, Amberly seemed to emanate a lightness and contentment.  She had just turned six when I had to take her and her siblings away from their abusive father and our home.
Even more shocking, during the separation and following the divorce, her father's interest in seeing Amberly or spending time with her diminished, as he focused his attention almost exclusively on the two eldest children.  There were nights she crawled into my arms and wept, grieving the loss of her daddy and wondering why he didn't want to have anything to do with her.  There was no explanation sufficient to quell a little girl's bewildered grief.
At the age of 12, tests confirmed that she had a pretty severe case of scoliosis (curvature of the spine).  Soon after she was fitted with a bulky, shoulder-to-hip brace that she was required to wear 21 hours a day.  While her tomboyish ways were giving way to a growing desire to look and feel feminine she was forced to wear baggy shirts to attempt to disguise the cast-like brace underneath.   Many days I found her curled up on her bed crying, overwhelmed by her situation and utterly depressed.  Her happy demeanor had been overshadowed by consistent back pain, an almost complete loss of her physical freedom, and a cruel setback in the development of her fragile femininity. It seemed another father figure had let her down – first her earthly father and now her heavenly one – and Amberly was growing embittered toward them both.
Driving her home from school one afternoon, as a song played on the radio, I sang along. Who knows how He'll get a hold of us Get our attention to prove He is enough He'll do and He'll use Whatever He wants to To tell us "I love you…[i] I glanced over at Amberly as I sang and smiled.  In that moment, I saw a spark in her eye, and I believe it was then that she began her journey to discover the perfect Father who, in the midst of her trials, loved her more than anything.  Her faith began to grow, and the light slowly returned to her eyes.
But some wounds never heal completely. A couple of years later, the movie, "Tangled," was released.  The beautifully animated film tells the story of Rapunzel, a princess kidnapped as a baby by a vain, abusive woman.  Rapunzel's magical, golden hair holds the power to heal and invoke perpetual youth, which her maternal imposter craves.  As she grows up, Rapunzel is isolated as much by a fear of the outside world planted there by her abductor as she is by the tower from which she has no means of escape.
Every year, on the night of Rapunzel's birthday, Rapunzel's parents – the king and queen – and all of the townspeople send thousands of paper lanterns aloft both as a solemn remembrance of the lost princess and with the smallest hope that the young girl may one day see the pageant of dancing lights in the night sky and find her way home. There is a poignant scene in the movie where Rapunzel's father – the king – and his queen are somberly preparing for the annual event.  There are no words spoken between them, just a shared pain captured in a look of desperate longing and grief on the downcast face of Rapunzel's father.
The first time Amberly watched this touching scene, she fell to tears, consumed with a pain long held in secret, a depth of grief a child should never know.  And every time she sees this segment in the film, the same insatiable ache rises, flowing from a place in her little girl heart that has not yet healed. "Why didn't he love me?" she asks.  "Doesn't he miss me? Doesn't he care?"  And I can only hold her in my arms and weep right along with her.
It makes no sense.  It is crushing.  It is appalling.  The man has no idea what he has so foolishly forfeited. I know her father is not safe.  I know that if she had maintained a relationship with him he would have likely added other offenses to her catalog of father-wounds.  But knowing that doesn't help.  It doesn't assuage the pain.
Yet, there is something intrinsically wondrous in the"Tangled" lantern ritual.   Long before her escape from the tower, Rapunzel sees the lanterns each and every year, shimmering in the distant night, knowing they are significant, but not realizing that their yearly release is especially for her. Rapunzel's goal becomes to witness the event for herself and discover the lanterns' purpose.
When she finally escapes, not yet grasping her true identity, Rapunzel is privileged to view the enchanting spectacle from a small boat on a lake with her rescuer, viewing the dark sky over the castle when the awe-inspiring sight of the first golden lantern rises.  Then with it there follows a glittering sea of light that sets the world aglow and casts a shimmering reflection upon the water.
A solitary lantern descends upon the boat, the very one sent aloft by her grieving father and mother.  Rapunzel smiles at the gift as it alights on her fingertips.  Then she propels it gently skyward, returning it to its place in the heavens.  She does not even realize what it is she is holding – the very expression of her father's longing, his call for her to please come home.  She has no idea how cruelly he misses her, a truth only time will reveal.
What a sweet image of the inimitable and personal love of our Father-God. As the years have passed, Amberly has once again found joy and contentment and is well-loved by her family and friends, but she will probably always grieve what her father did not, could not, give her.
On the other hand, she now carries a mental picture of how her other Father feels about her.  She knows that He cherishes her and wants her to know Him and find safety in His outstretched arms. On your darkest nights, I am so certain that, if you are looking, you might just see the lanterns that our Father has sent out into your midst, reminders of just how much He loves you.  You belonged to Him first, and He misses you and wants you to come home.
"You will seek Me and find Me, when you search for Me with all your heart."  Jeremiah 29:13
---
[i]
God Speaking, by Ronnie Freeman© 2007