"…the one who knows the right thing to do and does not do it, to him it is sin."  James 4:17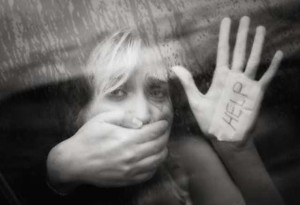 A commenter on my blog (who identifies himself as "CR") recently submitted a response to a woman whose comments appeared on a previous article of mine entitled, "If Only He Would Hit Me?"  I am posting his comments and my response here.
CR's post was a reply to "Morgan" whose stepfather is abusive. CR wrote, "have you ever put yourself in his [the abuser's] shoes (empathy) ? Do you know if he finds you difficult too, or have you only considered yourself and how you feel, and not how you behave as we can often be catalyst….you already know your step father's (sic) behavior is a catalyst in your negative feelings, so perhaps it is a vicious cycle. You can't change others but you can work on yourself."
CR's message is loaded with abuser-ese, so he is either grossly unfamiliar with the abuse dynamic and the abuser mindset or he is an abuser seeking to validate a twisted, self-serving agenda. Regardless, let us take a closer look at CR's comments and shed light on what he is really saying.
He begins, "Have you ever put yourself in the abuser's* shoes (empathy)…" CR wastes no time foisting upon a victim a dose of guilt and a sense of obligation to  demonstrate compassion (empathy) toward her abuser while offering her no empathy whatsoever.  CR's cock-eyed premise is designed to invoke pity for the abuser and shift the focus from the abuser's attitudes and actions to the victim's, to invoke doubt as to the identity of the real offender.  Perhaps the roles are reversed, and the oppressor is really just a victim, and the victim is the root cause of his abuse.  If that is true, then we must conclude that the abuser is somehow powerless to exert any self-control when confronted with another's "negative feelings."  The target of the abuse is therefore responsible for the abuser's behavior, and it is up to her to break the "vicious cycle."
The truth is that the abuser is the aggressor here, and it is his responsibility to address whatever issues he has that prevent him from treating others with an appropriate measure of respect and dignity.  No one else holds the power to compel him to do anything. The abuser is a big boy, and he must be willing to own up to his own attitudes and actions.
"…do you know if he [the abuser] finds you difficult, too?" Ah.  This is known as "equalizing" which once again asks the victim to consider whether she is equally responsible for the abuse.  Surely, the victim is not perfect  and has faults of her own that must somehow contribute to the abuser's cruel behaviors toward her.  This logic first implies that the abuser's actions are not out of the realm of normal, healthy behavior.   Abuse is not abuse at all, but just the way the abuser expresses a difference of opinion.  That is absolutely incorrect.
Being an imperfect person does not equate to being difficult, and even being disagreeable or difficult at times does not legitimize abuse.  My children certainly had moments where I found them difficult, yet I did not abuse them or feel any compulsion to do so, nor could I for one minute blame them if I did.
"…we can often be catalysts…"   Here again, the writer bolsters his "share-the-blame" defense.   We must consider whether the abuser was provoked – compelled to abuse.   So it becomes the victim's job to tip-toe around her abuser and endeavor to be perfect and not carry any "negative" emotions so that he will not attack her.  This view supports the purest form of dysfunction:  The abuser is presumed innocent while his victim is presumed guilty.  The abuser is not responsible; the victim is.
 "…or have you only considered yourself and how you feel and how you behave…"  Let's just pack on another thick layer of guilt and shame here.  In essence, the writer is saying, "What about the abuser's feelings?  By drawing attention to the pain he is causing you, you are only thinking of yourself.  If you really were a caring person, you would ignore your wounds and put his feelings and needs above your own." 
No abuse victim is under an obligation to stand back and say, "Gee, the wretched man is treating me like garbage.  I must dry my tears and consider how he is feeling and what he needs instead of tending to my bleeding, broken heart."  Such reasoning is absolute nonsense, completely unbalanced and self-serving – yet wholly consistent with the abuser mindset.  The priority should never be to coddle an abuser but to ensure that the victim is taken out of harm's way.
The truth is that abusers are not tender-hearted, misunderstood individuals, but narcissistic taskmasters, manipulators, bullies and users.  They are in-house extortionists.  Their unspoken message to those under them is: "If you are in pain, you are to blame."
It is time to place the responsibility for the offender's actions squarely where it belongs – on him.  It is he who needs to put himself in the shoes of those whom he is abusing and see with clear eyes the depth of destruction he is imposing on the innocent.  It is he who needs to stop looking out for himself and learn what it means to be a protector rather than a predator, to acknowledge that he alone is responsible for his behavior.  If those around him have negative feelings toward him, he is the likely source and instigator.  Those whom he torments owe him nothing.
CR, you are correct only to the extent that the woman you addressed cannot change her abusive stepfather.  But your conclusion is patently incorrect.  An abuse victim is under no obligation to change herself, presumably by overriding her "negative feelings" with the hope of reducing the incidence of abuse.  On the contrary, those emotions speak truth about her situation and should not be diminished but validated, and such victims should be empowered to remove themselves from the violence whether physical or emotional.  The only change she should make should be with regard to her proximity to her abuser – to get away (and stay away) from him.
Sadly, the majority of abusers prefer their dominating, power-hungry ways to relationships that are grounded in mutuality, selflessness, respect and legitimate forms of intimacy, because such relationships make them feel weak and vulnerable.  When called out, most abusers  will generally choose to forfeit relationships and seek out new victims rather than addressing their toxic behaviors.  If such men are ever going to change, we must refuse to enable them or protect them from the natural consequences of their actions, but instead allow them to soberly reap what they have sown.
"Do not be deceived, God is not mocked; for whatever a man sows, this he will also reap. For the one who sows to his own flesh will from the flesh reap corruption, but the one who sows to the Spirit will from the Spirit reap eternal life."  Galatians 6:7-8
*The overwhelming majority of abusers are male; therefore, the abuser is referred to in the masculine.
Copyright  2016
All Rights Reserved