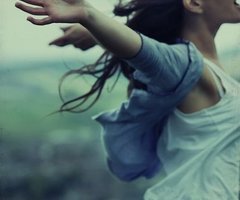 It has been said that man is the only creature who runs faster when he is lost.
Sure enough, that was me – trying to survive in an abusive marriage, striving and praying and trying – running ever faster but always headed in the wrong direction.  At long last I found myself backed into a windowless corner where decades of denial had finally run their course.  It was then that I had to offer up my most painful of all confessions.
You see, up until that moment, I had held to my story, the one I had fabricated about my marital destiny, the one that ultimately led to the nightmare from which my children and I now needed to be rescued.  The original account affectionately chronicled how and where my husband and I first met, the way he doggedly pursued me and how our courtship and marriage unfolded.  Surely I had presented an image where it seemed that God had brought us together.
But so many years later I found myself virtually suffocating under a wave of conviction so overwhelming, it felt as though my heart might explode.
 "I'm afraid to say it, Lord," I barely whispered, my voice breaking while my heart beat wildly.  My fear only grew with the admission, fear that the revelation would leave me condemned forever.
"Just tell Me," His spirit prompted. And in that instant, my pride shattered before Him.
"I should never have married him," I blurted out as the dam of restraint that held back my tears gave way. "I knew then that You did not want me to marry him, and I did it anyway,"
I let every ounce of guilt pour out of me, wave upon wave of it, damning and despicable and shameful.
I had held fast to a secret that wasn't, a lie I had told myself, a well-rehearsed cover-up.  The truth was I could not simply blame the man I married for the horrific life we had lived.  The responsibility was equally mine.  To cover my mistake I stayed.  I foolishly believed that, if I was faithful and tried harder and prayed more, the Lord would fix it – for His sake, for our kids' sake.  No one would ever have to know what a foolish woman I was.
I had spent years and exercised every possible rationale to attempt to lock away the truth and find a way to make it work.  It was emotionally and spiritually devastating to finally admit everything, to lay bare the lie I had so carefully perpetuated.
I knew that all was not a complete loss.  I had four wonderful children with the man I married, but from the get-go our home was ungodly and toxic, and I had to be willing to look with clear eyes at what I had allowed him to put all of us through.  I could accept the price I was called to pay for my foolishness, but my beloved children had been severely wounded as a result of poor choices multiplied by more poor choices to attempt to cover those poor choices.  What an excruciating admission it all wrought.
Yet in the midst of my heart-wrenching confession, I was met with not a single moment of condemnation.  No, my uninhibited grief yielded no wagging finger of rebuke from the Almighty One, but rather an almost instantaneous outpouring of absolute forgiveness, acceptance and an indescribable peace.
"I know it all, My child," the Spirit seemed to say.  "But, you could not be free until you confessed it."   
How is it that I could expend so much effort covering up my own willfulness and confessing every little failure in my life except the one thing that held me in daily bondage?  All that time I was running into the arms of the one causing us harm and away from the One who longed to save me from it – all in a selfish effort to cover my own tracks.
Yet, my Savior did not abandon me but patiently waited until I finally fell before Him and lay the shattered pieces of my life at His feet.  He accepted my brokenness as a love offering, enveloped me in His grace and made me whole yet again.  In that moment, He held me so close I swear I could feel the warmth of His arms, His strong, nail-scarred hands wiping the tears from my face.
My Lord was there all along, waiting for me to see Him there, eager to free me from my past, and then pour over me His interminable love and grace.
I have grieved and grieved again, but the truth is that I cannot change what has been, but I can allow Him to change me through it.  And He reminds me to leave it behind, to  "… press on toward the goal for the prize of the upward call of God in Christ Jesus."  [Philippians 3:14]
Just as He has done with those who have gone before me and others who will follow, my Savior fashioned my brokenness into something greater than my failings, bringing forth life where death had reigned.  So I stand before Him, arms wide open, ashamed no longer, overflowing with gratitude, willing to follow Him wherever He leads, and to  encourage others to seek Him and receive the grace that flows so wondrously from those outstretched, nail-pierced hands.
I suppose it is true that pride does come before a fall.  It is not always the pride of tyrants and kings, for I know that something as subtle and secret as denial can lead us far from our intended path. Admitting that you have been running in the wrong direction is extremely humbling, but it makes far more sense to stop running and assess where you are headed than to simply continue on in the wrong direction.  At least then, course corrections can be made to begin moving toward the destination God has for you. It may mean letting go of your own plans and expectations and allowing Him to lead you there.  I can joyfully confess that I much prefer His path to my own.
"Come to Me all who are weary and heavy laden, and I will give you rest."  Matthew 11:28 
Cindy Burrell
Copyright 2014
All Rights Reserved