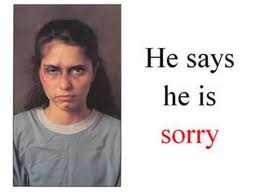 When push comes to shove, and an abuse victim has finally had her fill, the confrontation with her abuser will almost certainly set in motion a new set of somewhat predictable responses. It is a crucial moment for her, because denial has finally given way to determination, and though confusion typically reigns, clarity is gaining a foothold.
The victim has reached a point where she is willing and able to openly contend that the relationship has reached its breaking point. She may confront her abuser in the midst of a conflict, try to choose the perfect opportunity to approach him, or pack her bags and leave a note on the nightstand. No matter how the issue is broached, the typical abuser is not usually receptive to being exposed, dismissed or ignored. The victim needs to brace herself; the game is almost certainly not over yet. He still has a few tricks up his sleeve.
In such a confrontation an abuser will almost always immediately question either his victim's sanity or her resolve. This may come in the form of feigned doubt, shock or horror. The victim might hear something like this:
"You're leaving?"
"Why would you do this to me?"
"I don't understand."
"Well, just leave then. Go on, get out. And don't come crawling back to me. If you walk out that door, that's it."
It is his hope that his presentation of innocence, even in anger, will cause you to doubt your credibility, your history and your instincts. Just maybe the incredulous look on his face and the tone in his voice will be enough to hook you back in.
This first tactic may well be followed by his diminishment of the seriousness of the situation. Comments tend to be something along these lines:
"Why do you always have to make such a big deal out of things."
"I had no idea that you were so unhappy."
"You just need to get some help."
"Why can't we just sit down and talk this thing out like adults?"
"Everyone I've talked to says that you're just overly sensitive."
Then there are the guilt messages:
"I said I'm sorry. What more do you want from me?"
"I always knew you were self-centered, but I never thought you'd take it this far." "I hope you know you're dishonoring your marriage vows, your faith – and God."
If, at this point, you can still stand your ground and he doesn't succeed in breaking you down, the abuser has a pretty good idea that he could be in serious trouble; he is losing his grip. Now that he knows that you mean business, he needs to think fast and change up his game. The abuser will often shake his head in disgust and give you some time to question the utter foolishness of your attack against him. If that doesn't work, there are other options. The next step might be to soften his approach.
He might start with something like, "I can see that you're upset. But I know we can work things out." Often the words, "I'm so sorry," or "Can you forgive me?" are all a victim needs to hear. In the event that those words fail to achieve the desired response, he may follow with the pies de resistance, the five words that serve as the ultimate trump card: "It will never happen again." For a little extra punch, he might add, "I swear" or "I promise" to that loaded little sentence. In the days to come, he might buy you flowers, take you out to dinner, or buy you a nice gift to top things off.
I'd like to be able to say that we enablers can easily see through all that. But for many of us, at least the first time these attention-getters are sprung, that's all it takes to soothe our broken hearts. It's as though the heavens have parted, we can hear angels singing, and everything in us is ready and willing to put our pain in the past and forgive and forget so that we can live happily ever after. We believe that, from that moment on, our lives will be different. We are overcome with the compassionate longing of a lover's heart. He finally gets it. He is genuinely sorry. He really does love me. All will be well. (Cue violins.)
Maybe it's all true. If the pieces of your relationship fall wondrously into place and healing begins right then and there, praise God! You are among the lucky ones. The rest of us will not be so blessed.
So how will you know if what your abuser says or does reflects a genuine repentance or is merely another form of clever manipulation?
Truly, when the full weight of our offenses is suddenly awakened in our hearts, it is a overwhelming, sobering reality, and we are eager and willing to validate the depth of our regret and go to any lengths to make suitable restitution.   There may be hope of reconciliation, but the penitent offender recognizes that he or she has no right to claim what has been forfeited through dereliction.  Genuine, sorrowful repentance will therefore reveal itself in several ways that generally reflect a conscientious acceptance of responsibility coupled with generous measures of humility, deference, patience and respect.
True repentance accepts responsibility. There is no attempt to project blame onto others, and that includes his victim(s). The truly repentant heart will humbly accept any penalty as evidence of its sincere intent, even to the point of a forfeiture of the relationship if that is what the offended individual needs or desires. A truly repentant person will willingly grant whatever measure of time, distance and space are necessary to re-earn the trust that has been lost. Therefore, if your abuser is soon complaining that you're not meeting him half way or putting forth an equal measure of effort, something is not right.
A repentant person will defer to the emotional and logistical needs of the offended. There are no expectations, no demands, and no pressure. There are no unexpected visits, no harassing phone calls or guilt-laden e-mails. A repentant person hopes for reconciliation but recognizes that he has no right to demand it. He doesn't rattle off a list of the accommodations he's made or expect praise for his efforts. If he's pushing up against your boundaries or trying to tear them down, he's diminishing the magnitude of the problem and the pain he has inflicted and is not genuinely repentant.
A repentant person will be patient. There is no calendar. There are no timelines. The offender doesn't complain that the process is unreasonable or is taking too long. A repentant person recognizes that trust lost must be re-earned over time. If your abuser is pressuring you to make a list of the things he must do to get you back or to commit to a date to get back together, he is sending the message that what matters to him is his level of discomfort. He wants to check items off the list so that he can back you into a corner with it. Accepting your abuser's assumptions or rushing back into your relationship for the sake of convenience or as a result of undue pressure is never a good idea, and you could end up right back where you started.
A repentant person will be respectful. There are no verbal darts thrown and no guilt or accusations lain upon the offended. Conversations are sensitive, and the only agenda is to conduct necessary business. Respect does not incorporate accusations, manipulation, sarcasm or mental games.
Favors are not to be trusted. A falsely repentant abuser may go out of his way to make your life easier, then rub your nose in the fact that he has gone to such extreme lengths for you. Suddenly you owe him.
An abuser will count on our nature, our desire for relationship, and our history of enabling to draw us back into the insanity. He will attempt to convince his victim that her expectations are extreme and that everything will work out fine once they reunite. That is his end game. But that is not what repentance looks like. That is simply more of the same.
With this understanding in mind, it is fairly easy to assess whether or not someone is truly repentant. As long as you remain steadfast, the truth will be revealed over time, for either you will see credible evidence of heartfelt change, or you will see the abuser's façade begin to crumble and fall away. Then you'll know whether what you are seeing is genuine repentance – or not.
Cindy Burrell www.hurtbylove.com
copyright @ 2012 all rights reserved