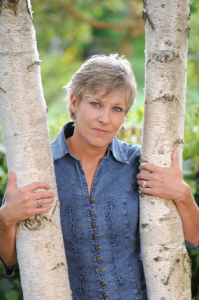 No woman walking down the aisle believes they will one day wake up lying next to an abusive spouse.  Vows are spoken with sincerity and forethought, colored by shared dreams of happily ever after.  I similarly promised myself – and God – that I would do all that I could to see that the marriage I had entered into would not only survive, but thrive.  Yet, one sad day, after a million little incremental abuses, I woke up battered and scarred, utterly confounded as to how my life had become such a nightmare.  What I did not realize was that the seeds had been planted long before.
I grew up in a broken home in Northern California with my mother and two sisters.   My mother was a determined provider.  She always made certain we had a roof over our heads, food on the table, and clothes on our backs.  Affection and communication, however, were virtually non-existent.  I did my best not to cause trouble, as it seemed that was what was expected of me.  But, I had no sense that I was in any way special, unique, attractive or otherwise extraordinary but I felt altogether empty and worthless.
When I was 19 or 20, I met John at church.  He was immediately smitten with me, and we began dating.  After a few short months, I broke off the relationship because he was constantly trying to "fix" me.  Almost a year later, after his expressed willingness to accept me as I was, we began dating again.  I took his obsession with me for love, and I believe I loved him too.  Two years later we were married.
John had some serious health issues, and together with his emotional stress of coping, John's life quickly became the focal point of our relationship.  In my mind, this was my time to shine, so to speak.  I could dote on him, take care of him and encourage him without a care for my own needs.  That's what love does, doesn't it?  Looking back, I can see how John needed someone to take care of him, and I needed to be needed.  Both of us made it all about him.  Ours was a match made in hell.
Five years into our marriage, I became pregnant with our firstborn:  a daughter.  John was an awesome daddy to Charla, but it was during her early years that he began to drink and self-medicate.  Both of our families had a history of alcoholism, so I protested loudly and often for fear of what might follow.  He would assure me that he was in control, try to hide his issues and, if discovered, would condemn me for my lack of sensitivity and support.
Over time, our marriage saw an ever-changing number or type of lapses of integrity which included the use of pornography, stealing, lying, questionable relationships and drug and alcohol abuse – whatever seemed necessary to try to fill the ever-growing hole in John's life.  It was no longer even remotely concealed that John's needs and desires came first.  Trying to gain my husband's love and appreciation became my objective – to give, love, encourage and support John to the extent that he would want to love me and care about what was best for our family.
As the years passed, we were blessed with three more children, two sons and another daughter, yet more children, less time and money also meant more self-sacrifice.  So John looked for ways to satiate his own appetites.  John's drinking increased, as did his prescription drug abuse, and with it the deception.  He became a spend-aholic, and our finances began to suffer.  Any criticism or concerns I voiced were met with anger, and John's passionate insistence that he should not be deprived whatever he pursued.  To his way of thinking, any objections I had were because of my blatant selfishness.
Without emotional support, together with my twisted understanding of what it meant to be a God-honoring wife, I kept our family secrets and prayed fervently that things would turn around.  I naively believed that, if I maintained my loyalty and became even more encouraging, sensitive and giving, one day  our family would be made whole.  That day never came.
Even more insidious, although threatening or intimidating, John never hit me.  He knew all of my sensitivities, such as my desire to be a godly wife, woman and mother and could disarm me by insulting my faith, disparaging my character or simply demanding submissive silence of me.  He would openly refuse to help me with household tasks when I asked just to throw his weight around, and would periodically lock me out of our bedroom as a form of punishment.
My husband became a tactical expert, using his words like a weapon.  He could twist my words and confound me to the point of sheer exasperation and confusion.  In the end, whatever was wrong in our relationship could be traced to my failure.  John's will and domination controlled our world.
There were many times I wanted help, wanted to leave.  But, he had never hit me.  Nor, to my knowledge, had he ever been unfaithful.  So I felt as though I had no biblical justification for leaving and none of my Christian friends ever gave me permission to do so.
By the time I was forced to leave with our children, I was little more than a shell.  I was on the verge of a nervous breakdown, the children lived in fear and anxiety, and John ruled his world with an iron fist.
Eighteen years earlier, I could not have foreseen that I would end up in an abusive marriage – that I would go to such extreme and unrealistic lengths – even sacrificing my common sense, dignity and even the emotional security of my own children — to try to earn love and respect.  John may have been abusive, but I enabled his destructive behavior.  Our divorce was final in 2003.
My regrets are too numerous to count.  They come from not demanding the respect and children and I deserved early on, not speaking the truth openly from the beginning, not getting whatever drastic form of counsel and emotional support I needed, not putting my foot down and saying no.  It has been hard for me to forgive myself for the cruelties our children witnessed and endured.  I had failed to adequately protect those most precious to me.
There is nothing noble about allowing another to wield such power and control.  It is a deadly trap and a lie.  Like so many others in similar circumstances, I didn't want to see it, and so denied it.  My belief system led me to believe that I could, through a positive, loving example, help my husband to become the man I thought he wanted to be.   Instead of living in reality, I held out for hope, imagining our family one day standing whole and happy,  Such was the vindication I yearned for but never received.   I believe this desire lies deep in the heart of every enabler.
Individuals caught in abusive situations are seeking three primary things:  a voice, a sense of value, and validation.  While our voice may be most easily found, our sense of value must be most consciously fought for, and vindication, we must understand, may never be forthcoming.  The road to restoration and healing becomes clearer when we let go of our unrealistic expectations.
If you are living in the dreadful confusion of an abusive relationship, please waste no time in speaking out.  If it feels hurtful and wrong, it probably is.  Love is not confusing and does not diminish the value of others.  It's okay, and sometimes imperative, that you say no.  Of course, it is vital that you use wisdom in terms of how you take action to free yourself, making personal safety of all those concerned the highest priority.
If I could take this journey, recover and thrive again, I am confident that you can do the same.  And on this website, my objective is to provide hurting women with a wealth of information and resources to help them to find their way to freedom.