"…purify your hearts, you double-minded."  James 4:8b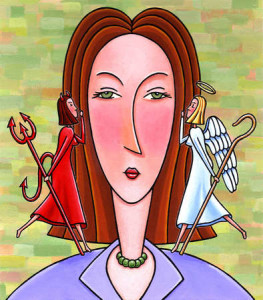 An abuse victim's thought process is a paradox as her mind waffles between extremes  – a simmering resentment toward her abuser juxtaposed against a desperate, if destructive, addiction to him.  The Scripture says that "…the one who doubts is like the surf of the sea, driven and tossed by the wind."[i]  It is a vivid picture, capturing well the tempest of confusion in which many an abuse victim finds herself as she endeavors  to make sense of the mixed messages she hears.
Oh, she can easily recount any number of the hurtful, even traumatic things her abuser has said or wrought in her life, the ratcheting down of her freedom and his list of impossible expectations.  When pressed, she can readily chronicle her abuser's offenses and betrayals and acknowledge how very quickly he can turn on her, with terrifying results.  Even withered and wiping tears from her face, she might nevertheless gather herself together and state emphatically, "But I still love him," undermining the very core of her own reality.
In one moment, she hears herself saying of her abuser, "I can't stand you."  But as the fear of rejection, abandonment and loneliness pour over her, her breaking heart whispers, "Please don't leave me."
It seems that the hypothetical angel and devil perched atop our shoulders may not be so far-fetched after all.  An abuse victim hears both voices and weighs the voice of one against the other; one speaking to her heart about the trauma she has endured, while the enemy leans in, spewing accusations and sowing doubt with regard to her comparative failures and love-worthiness.
There are honest, transparent moments where an abuse victim mentally says of her abuser, "I have had enough.  I don't want to live like this anymore."  She allows herself to imagine finding the peace and contentment she seeks, without the daily drama and heartache of surviving one hostile encounter after another, remaining in a household with a truly treacherous man.  She imagines what life might be like if she could actually find the strength and the will to remove herself from his grasp and make a new life without him.  She recognizes that her abuser lives in the half light of truth, that he dilutes and twists and corrupts through manipulation and deception, yet she will almost feel guilty for accepting that reality, begin to doubt her instincts, accept a measure of blame for his ways, and return to a belief that any good that remains in him must eventually lead to change.
Capitalizing on her doubt, the abuser and her spiritual enemy speak to those insecurities.  She finds herself contemplating whether it is better to remain with her abuser and to keep trying than to risk the possibility of being alone – perhaps for life.  At least remaining reveals her devotion and commitment and upholds her identity as a good wife, the selfless martyr in the relationship, even if home is a war zone and wounds rarely have time to heal before more are inflicted.
Hearing the echoes of those voices, the victim's heart cries "Please don't leave me.  I want this to work.  I need to know that I am worth loving."  It is the fearful, insecure part of her that clings to him, hoping for change, insight or understanding, the smallest sign of genuine affection, or the remotest piece of evidence that says he really does love her and he too wants to have the kind of relationship she imagines.  Finding the truth and acting on it when crippled by such confusion and fear is not an easy thing.
One minor breakthrough in this regard that occurred in my own life took place while on the telephone one summer's day after my separation from my abuser.  I stood on the balcony outside my bedroom to shield our children from yet another hostile conversation with their father.  John had called to harass me about who-knows-what and was throwing out whatever the put-downs of the day happened to be.  The regulars sounded something like:
If only you weren't such a nag.
There is something seriously wrong with you.
You make too big of a deal out of everything.
Our relationship would be fine if you weren't so selfish and unforgiving.
 And my favorite:  And you claim to be a woman of faith.  
Although I would typically take it all in and question my actions and my motives and try to reason with the man, on that day a righteous anger rose up in me.  As he spoke, without saying a word, I hung up on him.  The phone rang a few seconds later, and when I answered, John said, "You're not allowed to hang up on me."  But without a moment's hesitation, I calmly replied.  "I don't have to listen to your crap anymore."  And I hung up again.
That time he didn't call back.
For once I could see that his words were nothing more than a poison he had concocted to attempt to keep me weak and sick, to hold me captive.  I understood that I was no longer bound to his rules or his logic or his insanity unless I chose to be.
Many victims can go for years consoling the Please-Don't-Leave-Me part of their psyche with the abuser's meager offerings – the occasional good day, the buy-offs and promises he offers up when cornered.  But like cotton candy in our mouths, those little nothings quickly melt away, leaving the victim bleary-eyed and feeling lost, lonely and emotionally devastated.  What little he does to attempt to convince her of his good intentions cannot possibly diminish the ongoing anxiety that comes with her constant striving for perfection, avoiding his hate-filled stare and the haunting memories of his cruel, damning words.
So how does one in such a struggle come to terms with her double-mindedness?  The Word encourages the double-minded one to "purify" her heart.  Purification entails drawing out the toxins, the dross and impurities to reveal that which is uncorrupted, pure and virtuous.  It comes from attuning her heart to hear the voice of God and allowing Him to infuse her with the wisdom she needs to strain out those impurities and remove them, to dispel the lies and half-truths for what they are, and to refuse to allow the fear of being rejected or misunderstood to keep her from doing the right thing. In allowing this process to do its work, she may begin to see the truth in Jesus' words, that a tree is known by its fruit.
"For the mouth speaks out of that which fills the heart.  The good man brings out of his good treasure what is good; and the evil man brings out of his evil treasure what is evil."  Matthew 12:34b-35
As the victim's thoughts settle into certainty, it will become easier to acknowledge the I-Can't-Stand-You voice without guilt or shame.  She can cease rationalizing away his demoralizing behavior, the name-calling and raging, the tortuous silent treatment, the sarcasm and lies.  The validity of that voice grows into a clarity of conscience and conviction.
There is no doubt that the terrified Please-Don't-Leave-Me part of her will still wonder if she is unlovable or unworthy.  Yet the I-Can't-Stand-You voice can no longer be silenced, but can be clearly heard saying, "I know the truth.  He is intentionally harming me, and I will not live this way any longer."
The little angel and devil we imagine perched on our shoulders, whispering into our hearts and minds may seem humorous, but the analogy is fairly sound.  Those voices are powerful and can affect the very course of our lives.  The conflicting messages the abuse victim hears need to be identified and rectified – tested against the truth – not what other people tell her or what others might think of her, but against what she knows to be true about her own experience when no one else sees.  It's about finding the courage to discern the truth from the lies, standing up for the one and wholeheartedly rejecting the other, moving from double-mindedness to a powerful and life-changing certainty that allows her to declare, "I can't stand you, and I'm not going to live this way anymore."
"…for our God is not a God of confusion, but of peace."  (I Corinthians 14:33)
[i] James 1:6
Cindy Burrell
Copyright 2015, All Rights Reserved