Upon separating from my abusive husband, a whole new realm of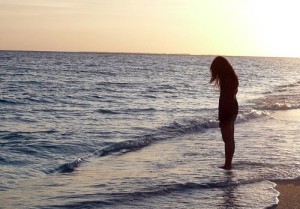 emotions surfaced:  a constant fear of what new tactics my abuser might employ to torment me now that I was no longer within easy reach, fears with regard to the kind of future my children and I might face, and on top of it all there was the heartbreaking realization that some people whom I considered friends clearly could not accept the reality of what was going on my life.
Unfortunately, what might have been deemed simple ignorance was insufficient to enable me to dismiss some people's responses to me.  It went much deeper than that.  It felt more as though they simply refused to believe that something so penetratingly dark could have possibly invaded our lives.  Many came alongside to whisper, "There, there," and pat me on the back and insist that things couldn't be that bad.  Those ignorant or insensitive or foolish people only made things worse.
They misunderstood not merely the horror of our situation; they misunderstood me.  Their condescending manner left me feeling isolated and cold and lonely and a little crazy.  They spoke as though I was being silly or narrow-minded.  "Maybe," they insinuated, "you should try to be more understanding of where your husband is coming from.  Maybe you should try to forgive and forget."  Their comments and suggestions told me that they doubted more than the truth of my testimony, but rather my  very character, the integrity of my words, and the depth of my pain.
And something inside of me crumbled.
Whether they would admit it today or not, some of my closest family members and confidantes shamed me at a time when what I desperately needed was a listening, empathetic ear and a shoulder to cry on, even if there was nothing to be said.  In the starkest terms, they betrayed me.  As I tested the waters with one after another, I learned that there were some I could no longer rely on or confide in, some I could not trust with my heart and my hurt.
But there were some who "got it," those who had either witnessed similar trauma in their own lives or who loved and trusted me enough to simply accept where I was, a blessed few who offered comfort and held me up when I was sure I was destined to fall.  In the midst of the emotional carnage and heartache, each of us really needs just a handful of people who are willing to walk with us through it all.
It's hard to imagine that our Lord had some similar experiences.
Think about it.  Jesus asked a dozen men to accompany Him on His journeys all over the countryside for three years.  They witnessed five thousand being fed after a simple Nazarene prayed over a couple of fish and some barley loaves.  Life with Jesus meant long days of trail dust mixed with intransigent and unforeseen glories.  Light comes to blinded eyes, the decaying flesh of lepers is restored, and the dead are raised with a word.  Tumultuous seas are made blissful one day and suitable for strolling on another.
How many evenings had the band basked in the glow and crackle of a campfire while they recounted the miracles and wonders they had seen on a given day, coupled with so many words of wisdom capable of reaching into their very souls?
Yet at times even Jesus was misunderstood by those closest to Him.
Even as Jesus identifies Himself as God's chosen one, Philip, having witnessed every irreplaceable minute up to this point has the audacity to petition for proof.
"Show us the Father, and that will be enough," Philip demands.  Jesus must have hung His head and sighed.  "Philip…  Don't you know Me?  "If you have seen Me, you have seen the Father." (John 14)
As for Peter, only minutes after professing publicly his belief that Jesus is Messiah, forbade Jesus from going to Jerusalem where He said He would be killed.  "Peter took Him aside and began to rebuke Him, saying, "God forbid it, Lord! This shall never happen to You.""  Matthew 16:22
Jesus rebuked His friend, saying, "Get behind Me, Satan! You are a stumbling block to Me; for you are not setting your mind on God's interests, but man's." Matthew 16:23
Man, that seems harsh.  But the truth is that Jesus' intentions were for the highest of purposes, and Peter's words undermined our Lord's stalwart determination.  Surely, Peter meant well.  "We love You, Lord.  Don't do it.  Surely, we can find another way to make this work in a way that no one gets hurt."
It was ignorance on Peter's part, but a potentially crippling manifestation of it.
Some of my friends said similar things to me when I was considering divorce, when I knew it was the right thing, the path the Lord had laid out before me.  "Divorce is a little drastic, don't you think?  I'm sure a good counselor can help you to hold your marriage together.  Don't you think you should stay together for the children?  What about your Christian witness?"
Those voices essentially dismissed me as a fraud and churned up doubt and confusion.  They didn't espouse as much about what was right or best or true but deferred to that which might seem less controversial, less confrontational and more "Christian."  And they had no idea how those words stung.
We should also take a quick look at Thomas, the disciple who refused to receive what his eyes had not seen.  Doubting his friends' stories of a resurrected Christ, Thomas finds himself on his face when the risen Lord suddenly appears and invites Thomas to touch the wounds in His hands, His feet, His side. You couldn't trust the word of your friends, Thomas?  Okay then, see for yourself.  Jesus also offers sobering counsel saying,  "Because you have seen Me, have you believed? Blessed are they who did not see, and yet believed." John 20:25-27
Maybe you have had some friends like that.  "I wasn't there, so I have  no way of knowing if what you are saying is true," they might say.  But just as surely, there will be some who will support you solely on the basis of your word.  God bless them.
Furthermore, it is important to see that while Jesus had 12 men with Him, there were three identified as His closest companions: Peter, James and John.  Count 'em:  three.  They were invited to witness the Transfiguration, and it was those three companions He begged to remain close and pray with Him in Gethsemane.
And then there was John, His very best friend, "the disciple whom Jesus loved."  Yes, although Jesus had thousands of followers and fans, our Lord knew that many would not "get Him," at least not until after other significant events unfolded.  Similarly, if only a handful of devoted friends are there to get you through to the other side, let it be enough.
Some will no doubt retort, "Yes, but they all abandoned Jesus when things got really tough."  That's true.  But, Jesus wasn't surprised by the way things played out.  As Peter swore that He would never leave Him, Jesus prophesied of Peter's heart-rending betrayal.  Personally, I don't think it was spoken to shame Peter, but to remind him that the events that were upon them were beyond Peter's control, and all of the disciples had to be scattered to preserve them for the calling that would be placed upon their lives in the days to come.  Jesus knew that.  That singular part of the journey was His to walk alone, just as there are aspects of our journey when we must do the same.
But looking back at Jesus' experience once again, there, at the crucifixion, whom do we find?  John, Jesus' beloved friend, at the very foot of the cross, holding our Lord's mother, committing himself to her care.  Even as people sneered and mocked and spat on our suffering Savior, Jesus never asks where the other disciples are.  In those dark hours, John's presence was enough.  Submitting in obedience to the Father was enough.  The shaking of the earth, the renting of the veil, the distant rumbling of a stone being unearthed, and the imminent demise of the death angel was enough.
Yes, I have painted a dramatic picture to lead you toward an often understated reality. Convinced by many of the stories of abuse victims that cross my desk, I have come to the conclusion that, even as we make our escape, as we consider accepting the shaming brand as a divorcee, as we climb and claw our way toward restoration, we may be shocked to learn that not everyone will be willing to believe our accounts.  Many will not understand.  Some may be openly critical.  Others may shun us.  And the hard truth is that, as you walk this rough and treacherous road, perhaps only a few will really be there for you.
Maybe only one.
Nevertheless, I pray you will not allow the ignorance or the silence or the whisperings of others to keep you from doing what you are certain is the right thing.  Today you may be misunderstood, but you need to know that it is not your job to convince anyone of anything.  The day will come when all things that are in the darkness will be plainly seen.
In the meantime, hold to the One who knows everything there is to know about where you are and what your life is like.  Listen to His leading and accept His comfort and assurance.  He knows the truth, and He too understands how you feel.  He too knows what it's like to be misunderstood.
Cindy Burrell
Copyright 2015, All Rights Reserved