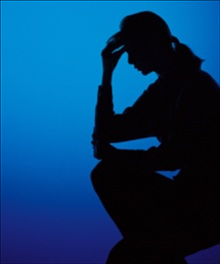 My eldest daughter, Charla, recently wrote a paper for her college psychology class about depression and decided to share it with me.  The subject of her paper was her younger brother, Brett, and what he suffered as a young boy in an abusive home.  (You can read Charla's account of her class presentation here.) 
 I feared that reading my daughter's words about her brother would reach deep and unveil wounds in me that simply refuse to heal – and they did.  As I read, I was once again compelled to revisit those dark days, and I began to weep to the point that I could scarcely make out the words on the page.  Although her conclusion was positive and encouraging, I had a hard time receiving it.  A decade after our escape, the guilt of remaining with that abusive man as long as I did haunts me still.
Seeing me in engulfed in my regret, my husband wrapped a loving arm around my shoulders and said to me, "Don't do this to yourself.  Despise the man."  In a response grounded in unbridled honesty, I lifted my head and half whispered, "And the church that kept me there."
For it was not my abusive husband that held me captive in that poisonous, treacherous home.  No, it was the church doctrine that I was determined to faithfully honor and follow to the letter.  Knowledgeable people whom I respected assured me that if I was a godly wife, if I spent enough time on my knees and humbled myself and loved well that my husband would turn from his wicked ways, and our home and marriage would be healed.  Yet, my faith and conviction empowered the man, for he knew I had been compelled to stay.  The years passed, and my husband's abuses became ever more atrocious.
As I read my daughter's account, I was overwhelmed knowing that the brief summary of Brett's history could never begin to capture the collective pain my four children and I endured over the course of so many years with the "blessing" of ignorant pastors and fellow believers.  I know now that tolerating and even enabling the kind of blatant, unrepentant sin that degrades His most sacred institution breaks the heart of our great God.  Yet, the ungodly dogma remains entrenched and is taught and pressed on the suffering.
How is it that I and others like me have been taught that divorce is a sin, but abuse is something to be borne?  Why is "'til death do us part," held up as an absolute while "love, honor and cherish" is relegated to an afterthought?
I cannot help but wonder how many hearts remain broken and unprotected, abandoned to the tortuous whims of a family member whose actions are deemed negligible – by those who do not live it.  Those whose admonitions I accepted as truth are blissfully unaware of the painful aftermath their legalist doctrine sanctioned.  In truth, my faith did not fail.  It was simply misplaced.
Did the man strike me?   Did he backhand our children?  Yes, day after day after day, where the pain is gravest, but where the wounds were shielded from human eyes.  To the church that demanded visible evidence, our wounds were – and are – sadly inconsequential.
Thankfully, now I know that God does not condone abuse of any kind.  He loves righteousness.  It is He who commands divine deliverance and calls upon us to bestow honor and justice in defense of the sanctity of marriage and family.   That is why God provided divorce – to release those of us who have been utterly abandoned and betrayed.  Yet few in the contemporary church will openly profess it.
I walk and rest in the One who released me.  Nevertheless, I am viewed as the sinner, a second-class Christian in the eyes of a judging church, for it is I who formally severed the bonds of the marriage that had long before been torn asunder – from within.  Even so, I have forgiven them – those who commended me for living a destitute, shameful life and condemned me when I found the courage to leave it.  I know their words were spoken in ignorance, for who would dare to proclaim that my Savior is somehow powerless to save me?
So I will not remain silent while so many church leaders and lay-counselors continue to keep men, women and children living in homes where terror and heartache reign.  That is not of God.  If I find myself at odds with a church that obliges such cruelty, so be it.  I would not wish for any to live with the kind of regret that I carry – because I foolishly heeded the voices of those who did not represent the One who loves me and set me free.
The wicked spies upon the righteous and seeks to kill him. The Lord will not leave him in his hand or let him be condemned when he is judged.
  Psalm 37:32-33
copyright @ Cindy Burrell 2014