It is a strange thing to invest so much energy into convincing yourself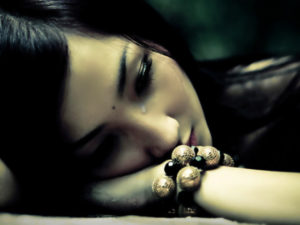 that your relationship is normal only to one day be jolted by the reality that there is nothing normal about it, to be forced to admit that your relationship is patently unhealthy, destructive, and yes, abusive.
I know you started out on this journey committed to this man* who says that he loves you, and there are still those rare moments when you catch a glimpse of the person who managed to earn your love and trust.  But now he is almost exclusively cold and distant, eager to criticize, unwilling to compromise, unseeing, unfeeling and seemingly unreachable.  His words drip with sarcasm and open hostility, and his icy stare can burn a hole right through you.  Ever teetering on a precipice of rage, you inwardly cower in his presence, practicing survival skills that demand avoidance, silence and fearful compliance.  He waves off any petition for sensitivity and passes off his attitudes and actions as those consistent with conventional masculinity.  You choose to believe it to be so, for the alternative is too painful to consider:  that his cruelties are borne of intent rather than ignorance.  It cannot be possible that he knows he is hurting you and simply doesn't care.
As you try to maintain a semblance of normalcy, life is strained and awkward, and day after day the tension builds.  Make a suggestion, make a mistake, ask for a favor, or say the wrong thing and you may find yourself being emotionally shredded by agonizingly cruel words.  You might be reduced to a trembling heap of tears by a wave of his unbridled and undeserved fury.  Any apology he offers is couched in blame.
Shocked and bewildered, you begin to wonder what happened to the man you loved, what you could have done to deserve such horrendous treatment.  The truth is that you have been trained to believe that it is always your fault, that everything would be just fine if only you were a better person, a better woman, a better wife.
As the months or years have passed, you have kept his secrets and played the wifely role well, convinced that one day you would wake up to a marriage and home life that is safe and happy.  Instead you have reached a point when you realize that his impossible standards cannot be met, that the undercurrent of anger that exudes from your abuser can neither be assuaged nor avoided.  The hope to which you have devotedly clung has withered away to nothing.
So you awaken each morning feeling broken, empty and wholly lost, doubting your sanity and contemplating how much longer you can continue living this terrible charade.  Then you decide to take a chance, to share the burden of your reality with someone you think you can trust.
You may soon discover that opening up is risky business.  You have done such a good job of covering your wounds and creating the pretense of a happy home that even as you unveil your broken heart and the tears of long-held restraint fall, your confidante expresses doubt about your terrible story.  He or she might offer advice or correction or infer that perhaps you are exaggerating or even lying.  Yes, there are probably some who will foolishly pour the salt of judgmental disbelief into your long-neglected emotional wounds.
As you seek help, support and validation, don't be surprised if you have to walk away from some people you thought would hear you.  You may need to release them to their ignorance for a time, to avoid those who, for whatever reason, cannot help you.  It hurts that they do not understand, and their disbelief may cause you to doubt your own testimony.  Nevertheless, you must continue to reach out, to speak your truth.  Dare to believe that someone in your circle will acknowledge your pain and graciously bestow upon you the three words you so desperately need to hear:  "I believe you."  Those three powerful words assure you that it is not your fault, you are not crazy, and you are not alone.  Those words give you permission to admit that the one who is says he loves you is a liar.  The one who should be your protector is, in truth, a predator.
If your experience is anything like mine, please know that I have a pretty good idea what you have been through, the kinds of wounds you carry and the depth of grief you bear.
I believe you.
I pray you can receive those words of validation and re-learn to trust your instincts, the inner voice that has been whispering a warning for so long.   You have every reason to speak your truth and every justification to move toward a new life of freedom and healing; the kind of life you long for, the kind of life you deserve.
"Pleasant words are a honeycomb, sweet to the soul and healing to the bones."  Proverbs 16:24
*Although individuals from both genders abuse, the overwhelming majority of abusers are male. The reader's understanding is appreciated.
Copyright 2016, All Rights Reserved