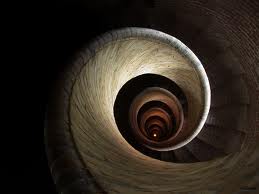 The Downward Spiral
We have followed the trail of the typical emotionally or verbally abusive relationship through the initial shock, rationalization, denial, acceptance and, now, the arrival at a place of perpetual fear and disillusionment.
It is only a matter of time before the enabler-victim finds herself emotionally alone and physically exhausted. Nothing works. Life is a never-ending cycle of heartache and anxiety. Abuse victims may suffer from any number of physical manifestations that may include depression, anxiety, chronic fatigue, insomnia, headaches, stomach ulcers or other digestive disorders, any of which may result from trying to cope with the stress of living in an abusive relationship. It is a high physical and emotional price to pay.
The abuser has an extremely short fuse and is consistently cruel. He will snap at his wife for the slightest thing – or nothing – yet, he still expects her to be there to meet his needs. Walking on eggshells is now the norm for his wife, and the enabler-victim is often too tired to even defend herself. She finds it puzzling that so many people see him as a great guy, and she questions whether she really is responsible for his unhappiness at home.
Tension permeates the home. The victim tries to maintain a semblance of normalcy, but children know something is wrong even when it's unspoken. Children's responses are an effective barometer of what may be going on in the household. They may exhibit signs of depression or anxiety, struggle at school or in their friendships, or exhibit other anti-social behaviors in a desperate cry for help.
There is nothing normal here. The victim feels helpless and wonders what in the world she is supposed to do next. Happiness seems virtually unattainable.
The Time Comes to Change Things Up
Now that the victim has finally reached the point where she is desperately miserable, she wants to ask for help, yet it feels like a huge risk to tell anyone what she is going through. Many victims are frightened by the prospect of divorce, but there comes a time when we begin to fantasize about what life might be like without the abuser. The victim feels compelled to open up to someone. Whom can she trust? How much should she share? What if the abuser finds out that she told someone and made him look bad?
It's terrifying to contemplate opening up after keeping the secrets for so long. (It is ideal to find a counselor experienced in abuse issues, but most victims will take a chance first on a close friend.) She has an abiding fear that the person she confides in might not believe her or may tell her that the problems she is experiencing are, in fact, her fault? Or that, because he isn't hitting her, she should just keep on trying? (This is common and simply demonstrates that many people haven't a clue about the very real pain inflicted by verbal and/or emotional abuse.) It takes a great deal of courage to reach out and begin to tell the secrets. She should tell them anyway.
This is a crucial point at which the victim needs to stand on what she knows to be true. If one person will not hear her, she needs to keep opening up (using discretion, of course) until someone does. Organizations familiar with domestic violence will understand and may be able to refer victims to an appropriate counselor and other forms of support.
It is important to note that some victims buckle under the pressure before they have the opportunity to share anything with anyone. They should waste no time and simply get out.
Copyright 2010 All Rights Reserved