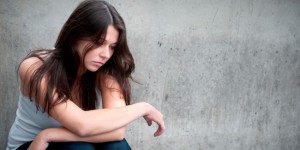 They don't want to hear my stories.  They refuse to believe what I say.
"Show me your scars," they tell me, crossing their arms in disdain.  "Prove to me the harm he has done.  Without physical proof of your pain, I have to assume you have none."
I suppose it is easy for the outsider to distrust wounds for which there is no physical evidence.  And I confess, such indifference further adds to my pain.
If only he would hit me.  Sometimes I wish he would.  Then they might understand what he has put me through, how much it hurts, that some of the deepest wounds never bleed.  Maybe if my bones were broken, if blood flowed from all the hurting places, the cynics and know-it-alls would not be so quick to downplay my fears or tell me that the things he does or says are inconsequential.
If only his emotional beatings left open wounds on my body like the ones he leaves on my heart, then I might gain a wealth of support when I explain why I must leave him.  Instead, they tell me that I just need to be more understanding.
They refuse to see what they cannot see.  The naïve, the ignorant and the foolish question and criticize and condemn.  They are blinded to the sheer number of wounds he has inflicted.  Prick them and they easily bleed.  But there is no scar and no stain, so those who would be my witnesses shake their heads in reckless disbelief.
They do not see me tearfully trembling in my bed for long, silent hours, tormented by the cruel and unjust things he spouts; feeling utterly lost, lonely and betrayed.  And it seems my critics simply cannot fathom the look of hatred in his eyes when the man curses under his breath or simply stares me down in fierce, silent censure.
If only I could make the doubters see what I feel.  It seems unfair that the verbal assaults that leave my heart raw and aching leave no traceable evidence.  I wish they did.  Then the unbelievers might come to my aid.  I have to believe they would condemn his behavior, fervently urge me to walk out and never look back.  They would stand with me in defense of my children.
Instead I hear them say, "It can't be that bad.  He is not hitting you…"
But, just because he is not hitting me does not mean he is not harming me.   Nevertheless, just so they might believe me, there are moments when I wish he would strike me.  Perhaps a physical beating would at least enable others to see for themselves the smallest measure of what he has been doing to my heart for all these years.  Then again, I don't think it would come close.
(If  you enjoyed this post, you might also like, "Exploiting the Feminine Heart." ) 
Copyright 2014
Cindy Burrell
All Rights Reserved