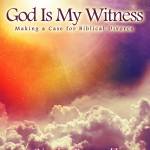 FOR IMMEDIATE RELEASE:
Cindy Burrell Announces the Release of Her New Book on Biblical Divorce
Author and abuse survivor Cindy Burrell is pleased to announce the release of her newest book, "God Is My Witness: Making a Case for Biblical Divorce."
"After years of prayerful study, I am eager to share what I believe reflects God's heart as it relates to a painful and seemingly settled subject," Cindy shared.
A unique biblical exposé on Christian divorce, "God Is My Witness" takes the reader far beyond the traditional church script, tearing down the walls of legalism to lead the reader back to the passionate, personal heart of God.
The discussion tackles many divorce-related questions including:
• Does God really hate divorce?
• Is divorce always a sin?
• Does remarriage constitute adultery?
• Did Jesus condemn divorce for "any cause?"
• Are divorced believers disqualified from ministry?
In answering these questions – and others – readers will be brought face to face with the kind of legalism that pervades the contemporary church contrasted against the wondrous relational and intercessory nature of God. What will emerge is a clearer, more consistent image of the God as well as His design for marriage and the biblical justification for divorce.
"The process of discovery in this undertaking has been profoundly meaningful, and I am excited to share what the Lord has shown me."
Cindy is the author of "Why Is He So Mean to Me?," "Divorce God's Way" and "Everything My Heart Seeks." She is an E-Zines platinum author, and the owner of a web-based ministry to women in abusive relationships – hurtbylove.com.
click here to see the book on our website
http://www.hurtbylove.com/#!God Is My Witness|ci95
###