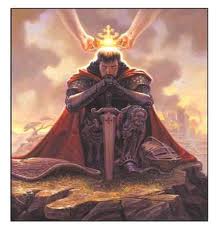 In many, perhaps most, cases men do not realize how greatly they are needed. This world still needs kings.
Men, your wives and children, your communities and your churches need men of passionate conviction and sure-footed purpose. We need leaders who exhibit godly character and demonstrate fearless leadership. We are hungry for those who would be our guardians and moral gatekeepers.
Too often men fail to soberly recognize and embrace the weight of responsibility, opportunity and privilege that falls on them alone, the gift of genuine masculinity that has the potential to carry with it a seal, a crest, a banner of honor, a crown. This culture, this society, this dark place desperately needs men of unwavering moral conviction, men prepared to set the example of spiritual excellence, of faithfulness, of passionate truth and unbridled courage.
You have been lied to. You have been told that you don't matter anymore. You have come to believe that your gifts and strengths are not needed. This depraved culture has lulled you into complacency.
Over time, some of you have become content to do a day's labor and bring home a paycheck, then come home at day's end to sink into your recliner and flip on the television. Your spiritual lives have become religious acts of lukewarm obligation, grounded in accommodation, full of empty words and cold and lifeless prayers.
And what excitement you glean might be found primarily in a movie theater, on the golf course, or in a nightclub. All the while, all around you we as a people are literally starving for a man with a godly fire in his eyes. We are deprived of virtuous leadership, of your passionate force for good. We are desperate to hear words charged with power and wisdom and unadulterated truth.
Men, your wives need to feel safe and loved and appreciated. Your women spend time tending to their skin and hair and make-up and clothes so that you might remind them that they are special; that you see who they are and what they have to offer. They long to share their dreams with you, to lie in your arms and hear your words of authentic affirmation and affection and encouragement. They want to know you understand and will strive to meet their heartfelt needs. They may enjoy having sex, but they want to be seduced, they want to be made love to.
Men, your children need a positive role model. They long for your blessing on their lives. You have the raw ability to instill in them a confidence and conviction that no one else's influence can match. You have the power to speak life into their lives, to change the world through the legacy you have the power to birth in their waiting hearts.
Men, the world still needs kings. We need men of strong moral stature, warriors at the ready, eager and willing to sacrifice all to deter and defend any and all who would come against their kingdom. We need men who are watchful, who are aware and intent on shoring up weaknesses, men who lead by example, and bolster the confidence and sense of safety and security of all those who live within the bounds of their kingdom.
Such a man is worth following. Such a man will garner the loyalty and conviction that makes his kingdom strong and prosperous and others rightfully envious.
I am married to such a man. I married a king. And I know what that makes me.
Men: You may not be noble by birth, but you were made to live a noble life.
Be steadfast, immoveable, ever abounding in the work of the Lord, knowing that your toil is not in vain in the Lord. I Corinthians 15:58
Cindy Burrell
Copyright 2012 @All rights reserved.